Coming Back!
What is the most powerful force on Earth? Water! Hurricane Ida caused much damage in New Jersey (and around the country) in September 2021. The massive rain resulted in horrible flash flooding in Lambertville, which devastated Green Cottage Studios creative studio space.
Approximately four feet of water swept through the studio, turning everything upside down and inside out, literally. The flooring and walls came up and all the contents seemed to have swirled around and settled in odd places, and everything was covered in mud. Mud, mud, mud everywhere.
My partner Rich and I were able to save some things, most importantly canvases, wood panel items and some works on watercolor paper, and a few sturdy items like a shelf and rolling cart from IKEA. But the remaining contents — equipment, furniture, art supplies — was a total loss. And it was not safe to even try to retrieve such items, and many were beyond saving anyway.
Below are the photos after the flood. If you want to see my photos of how the GCS looked before the flood, you can go over to this post. I encourage you to scroll down so you can see the photos of the interior before the flood.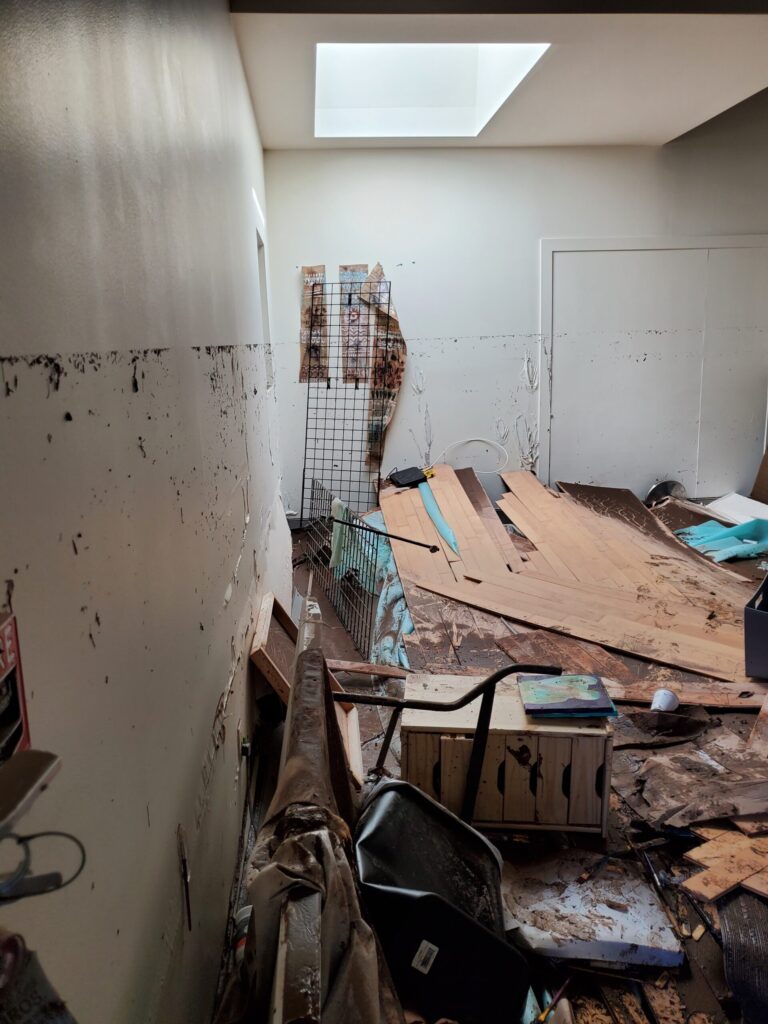 Luckily, I was able to keep creating this fall and winter in my home space. It's tiny but I still was able to work on some projects. I sold works at ArtJam 2021 – which supports homeless families at HomeFront.
So January 2022, as the calendar turned to a new year, the building had been renovated and it was safe to return.
Just like Spring, Green Cottage Studios is now re-emerging. The space has been evolving as each day I bring a furniture, storage and art supplies, as well as working on creating new art. Many thanks to Rich Miller who has been assembling and hauling big things!
Here's some photos of the new set up. These images include my Inspiration wall, my window and view to the outside, some things on the work table and the new display grids. There's still more to be done. But stay tuned as we add more!!