Over the last year or so, I have been studying mixed media. And I have been having a blast!
Aside: If you are unfamiliar with the term "mixed media," it has a broad definition – combining more than one media in one work – and that covers a lot of artwork. Some folks add to the definition that the media are "traditionally" distinct. So for example, an artist creates an acrylic painting on canvas, and adds touches with pastels or chalk. That would be mixed media.
My explorations have been acrylics on canvas or wood panel, then collage on painted papers or my own prints. Then I may add stamping, stenciling and mark making to and more layers to the piece. Every piece is different so it's a little hard to describe.
Above is a hand pulled monoprint with marks made with acrylic paint mark.
One of my teachers loves the look of matte (non gloss or even satin finish) liquid acrylics in his mixed media pieces. Combined with a dry brush technique, the paints produce a gritty textured look. I like the look as well, although I do work with acrylics with a slight gloss and I think they look fine, too. It really depends on what you want your output to be.
My teacher emphasizes a type of "fresco" paints available from an online United Kingdom store. They are not only matte finish, but they dry down with a finish that looks kind of chalky. Of course, they are more pricey because they come from the U.K., and on top of that, you have to pay shipping. Before shipping I calculated the cost in U.S. dollars at $4.33 per 50 ml bottle. Well, being a shopper, I felt challenged to find similar or equivalent paints stateside for less cost. (If you want the real thing, it can be found here Paper Artsy Fresco Finish Paints.)
With a little research, I found two products that do perform similar to the other paints. One is available from art supply company, Dick Blick. (See Dick Blick Matte Acrylics.) The price is around $2.19 for 2 oz bottle. Yay! I ordered online, so I did have to cover shipping but not at international cost. They have a wide array of colors available and metallics! I found the paints smooth and very workable. But the finish is merely matte, not quite chalky in finish.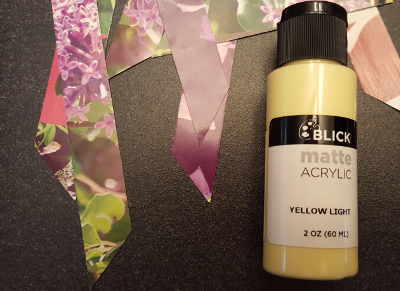 Recently in Michael's craft store, I found an Americana Decor Chalky finish liquid acrylic paint.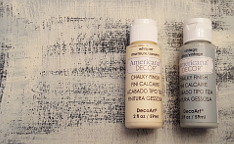 When I tested the Americana paint, I found these really have the chalky look and feel. I grabbed some from the shelf so I didn't explore the colorways that well, but I will be going back to the store for more. No shipping if I can get at the local store.
Here are photos of the paints and a background I did with the Americana Decor paint. See the texture. Love it!
Now to add collage elements!